Health, Metaphysical and Book Stores in New York
Our shop carries a large assortment of aromatherapy products including a fragrance bar, essential oils, herbal products, candles, wind-chimes, homeopathic soaps, incense, fragrance oils & diffusers, organic herbal teas, statues, jewelry, rosary beads, communion gifts, color healing blankets, spiritual jewelry, and hard to find crystals. Gift baskets for every occasion too! We also offer classes and practitioner services.  See website for details.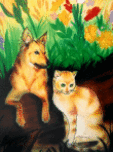 Founded in 1988, Whisker's continues with it's original mission to bring the benefits of holistic wellness concepts to all companion animals through education and healthy products. Whiskers is the early pioneer of the alternative, holistic pet care movement. One thing is sure, what Whiskers' offers in the way of knowledge, products and methods works. Store locations in Manhattan and Astoria, Queens with FREE HOME DELIVERY available throughout Manhattan, Brooklyn, Queens and the Bronx. And world-wide shipping of these same great products from our on-line website.