Academy of Chinese Culture and Health Sciences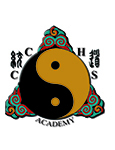 ACCHS is the third-oldest TCM school in the United States and it remains one of the few colleges teaching classical Chinese medicine as it is practiced in China, including acupuncture, Tui Na and acupressure, moxibustion, herbal prescription, Taiji (tai-chi), and meditation.
We offer several CE courses per year, totaling at least 50 required CE credits per two-year period. ACCHS is approved by the California Acupuncture Board as a continuing education provider for licensed acupuncturists.
Offering online courses for the duration of the COVID mandate only