Acutonics Institute of Integrative Medicine courses and certification programs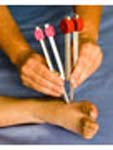 Acutonics Certification expands your knowledge and competency in a methodology rooted in Oriental medicine, psychology and music. This innovative curriculum teaches a non-invasive modality with a scientific and spiritual foundation. Take a few classes or follow the path to certification to gain valuable skills that integrate into your clinical work and life.
Continuing education credits.