Bauman College of Holistic Nutrition and Culinary Arts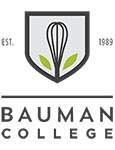 Established in 1989, Bauman College offers comprehensive, affordable education in holistic nutrition and culinary arts. We believe that nutrition is a powerful tool in the creation and maintenance of optimal health, prevention of disease, and healing of chronic illness.
At Bauman College, both the Nutrition Consultant and Natural Chef training programs encompass the revolutionary ideas and scientific approach to nutrition that have been the foundation for what Bauman College is today. The Nutrition Consultant Training Program focuses on holistic nutrition that goes beyond supporting one dietary choice over another. The Natural Chef Training Program combines classical culinary training with modern therapeutic applications.
Programs are offered online and at our locations in Northern California.
Visit our YouTube channel:  https://www.youtube.com/user/BaumanCollege