Brenna Iset Life Coach and Intuitive Counselor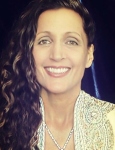 Brenna is an international intuitive counselor, teacher, channel and healer, assisting the seeker to reach their highest potential. As a third generation clairvoyant, her grandmother cultivated her psychic abilities at an early age.
Brenna spent her earlier years as a devoted student to world renowned teachers such as Lina Berntsen, Seann Callister, David Waldman and many others. Also a lifelong student to the teachings of the great masters, such as Jiddu Krishnamurti, Anandamayi Ma, Sri Bhagawan Ramana Maharshi, Paramahansa Yogananda, and so many more.
Her work is to guide ones to discover and connect with their own inner eye and navigation system. To assist with the clearing and healing of anything that stands in the way of happiness, peace, health, love and abundant resources.
Visit her YouTube channel: https://www.youtube.com/user/brennaiset