BRI Nutrition Triphala – Veggie Himalaya Triphala Pure Extract Plus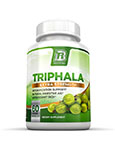 Balancing formula for detoxification & rejuvenation: Triphala is recommended and used more than any other Ayurvedic herbal formulation. Popular for its unique ability to gently cleanse and detoxify the system while simultaneously replenishing and nourishing it, this traditional formula supports the proper functions of the digestive, circulatory, respiratory and genitourinary systems. Translated as "three fruits", it is composed of the dried fruits of amalaki, bibhitaki and haritaki. Triphala readily removes excess vata, pitta and kapha from the body, bringing balance and proper functioning to the system.
If you've been searching for one comprehensive supplement you can count on to improve your body's function across the spectrum, you've found it with our Pure Himalaya Triphala Extract. Purge unwanted toxins from your body and regain lost energy with this 30-day supply, or your money back.