Diet Slave No More! by Dr. Svetlana Kogan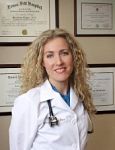 Hundreds of diet books have been written on the subject of weight loss. Perhaps you thought this was one of them? No, this is not a diet book! In fact, it defies all the existing diets.
This book's approach to weight loss is about you—a holistic plan that focuses on you as an individual. As you explore the question "What am I?" you will discover all the tools that you need.
Combining the best of Western and Eastern medicine, Svetlana Kogan, MD, guides you on a journey that will align your mind and body.