Biocompatible & Cosmetic Dentistry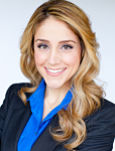 Dr. Pearl Zadeh was born and raised in sunny Southern California. She graduated at the top of her class from the prestigious New York University were she earned her Doctorate in Dental Surgery. Upon completion of her education, she returned to Los Angeles, where she quickly joined the ranks of her family legacy of dentists to create her dental artistry and restore beautiful healthy smiles.
While Dr. Pearl Zadeh is a skillful and artistic cosmetic dentist, she has always displayed a passion for the biologic nature of dentistry. As a result she has placed a large emphasis of her career on the health of the products she places in her patient's mouth, and the affects they have on the body as a whole. Although this can be challenging in our modern dental field, she safely removes all toxic material such as mercury and metal based restorations, while replacing broken and disfigured teeth, with aesthetic and healthy materials.
Dr. Pearl Zadeh takes an inter-disciplinary approach to dentistry, she understands that it takes a team of many skilled professionals to restore a patient to sound mouth and body. In striving to achieve overall optimal health, she works in close connection with naturopathic doctors, integrative medicine specialists, nutritionists, acupuncturists, and chiropractors.