Edgar Cayce Books Blog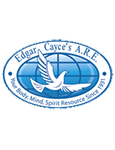 Welcome to the Official Edgar Cayce Books Blog where we'll highlight excerpts and author interviews for works published by A.R.E. Press and its imprint 4th Dimension Press.
Edgar Cayce (1877–1945) founded the non-profit Association for Research and Enlightenment (A.R.E.) in 1931, to explore spirituality, holistic health, intuition, dream interpretation, psychic development, reincarnation, and ancient mysteries—all subjects that frequently came up in the more than 14,000 documented psychic readings given by Cayce.
A.R.E. Press has been publishing books since 1931 as well, with the mission of furthering the work of A.R.E. and it's goal of helping people to change their lives for the better physically, mentally, and spiritually through books, DVDs, and CDs.
In 2009, A.R.E. Press launched its second imprint, 4th Dimension Press. While A.R.E. Press features topics directly related to the work of Edgar Cayce and often includes excerpts from the Cayce readings, 4th Dimension Press allows us to take our publishing efforts further with like-minded and expansive explorations into the mysteries and spirituality of our existence without direct reference to Cayce specific content.