Edgar Cayce's A.R.E – Blog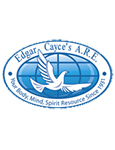 Edgar Cayce's A.R.E. covers topics of ancient mysteries, dreams, reincarnation, holistic health, mindful living, astrology, meditation and prayer, life after death, psychic development, and much more.
The Mission of the Association for Research and Enlightenment (A.R.E.) is to help people transform their lives for the better, through research, education, and application of core concepts found in the Edgar Cayce readings and kindred materials that seek to manifest the love of God and all people and promote the purposefulness of life, the oneness of God, the spiritual nature of humankind, and the connection of body, mind, and spirit.