Edgar Cayce's A.R.E. Radio & TV programs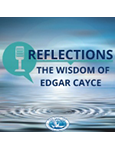 Welcome to Reflections: The Wisdom of Edgar Cayce.
Our mission is to introduce listeners to the vast array of information from the Cayce readings, which complements the overall mission of our nonprofit organization to provide individuals from all walks of life, levels of education, and religious backgrounds with tools for personal empowerment and healing at all levels–body, mind, and spirit. Join us as we explore meditation, mindfulness, holistic health, ancient mysteries, perspectives on the afterlife, reincarnation, intuition, psychic development, and much, much more. Guests include expert authors and speakers and new shows are added monthly.
Subscribe to our Podcast http://edgarcayce.libsyn.com/
Watch our video interviews on our YouTube Channel https://www.youtube.com/user/edgarcaycetv