First Alternative Natural Foods Co-op Newsletter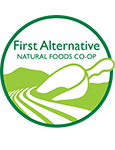 First Alternative Natural Foods Co-op is a community market aspiring to be a model for environmental sustainability through our purchasing and workplace practices. We seek to honor our traditions and build upon our potential. We are committed to cultivating tolerance and diversity in our operations. We strive for excellence in our products and services, including wholesome organic foods, innovative education, and community outreach, while offering high quality, local, organic, and minimally packaged products whenever possible.
Sign up for The Scoop, First Alternative Co-op's monthly resource for what's happening at the Co-op and in the community. Don't forget to check out The Thymes quarterly magazine too!