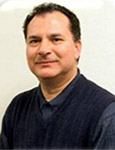 Dr. Garcia is the creator and founder of Garcia Ennergetics, an alternative modality which builds upon the concepts of energetic neutrality to heal, both the physical and spiritual bodies alike.
Dr. Garcia has created a special line of healing Spiritual Sprays.
These Spiritual Sprays are to remind the body's energy field of its original "color" blueprint, restoring balance to our body, mind & spirit and returning to a harmonic state. Our Spiritual Sprays are made with holy water, essential oils, alchemy flower essences and vibrational frequencies (crystals, sound, colour, planets, scared geometry and other energies). Simply mist your aura with the spray you are drawn to at the moment. Also can be used to change the energy in a room and to program gemstones and other tools.
Dr. Garcia's book: Guiding Personal Source is available in hard cover at this location only.
The ability to harmonize your health and life is already yours through the power of your intuition. In Guiding Personal Source, world-renowned medical intuitive Dr. Hector E. Garcia, D.C. shows you how to: Stop thinking and start feeling to open a pathway for health / Use neutrality to facilitate healing energy / Tap into Guided Personal Source to improve any health issue and much more.