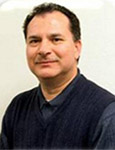 Dr. Garcia is the creator and founder of Garcia Ennergetics, an alternative modality which builds upon the concepts of energetic neutrality to heal, both the physical and spiritual bodies alike. He is a world renowned medical intuitive and medium known for his awe inspiring transformations and harmonizing that he has conducted in person and remotely throughout the world.
Dr. Garcia has nurtured his intuitive gifts from an early age and it has led him to the realization of his dreams of helping others. He has honed his gifts and studied deeply the concepts and modalities that make up the field of alternative forms of healing, only to find many to be unclear, or too prolonged, prompting him to develop his own method and manifestation of the gifts he possesses. This method became, Garcia Ennergetics, a method he utilizes daily in his own practice.
He also offers classes in-person and teleseminars.