Go Nutrients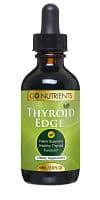 We are a leading provider of liquid herbal and vitamin supplements. Our formulas are effective, non-toxic, great tasting and 100% alcohol-free. Our products will never contain artificial colors, preservatives or flavors. Plus we are GMO-free, gluten-free, dairy-free…you name it.
Also, our products are third party tested for purity and potency. And it is made in the USA!
You can try it risk-free with our 90 day money back guarantee.