Gudi's Aromatherapy – European Essential Oil Blends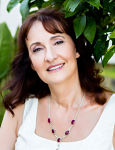 Essential Oils have been used for thousands of years to heal the body, mind, and emotions. Here at Gudi's Aromatherapy the focus is on oil blends created with a specific intent.  A unique therapeutic experience of treating the whole body, emotional well-being, and strengthening the immune system. We offer aromatherapy products for Labor and Delivery (childbirth), natural first aid remedies, home diffusers, perfumes, body and bath products and gift baskets.
Our certified Aromatherapists are always on site to help you find the pure Essential Oil blends best suited for you.
FIND US weekly at both the Seaside Bazaar in Encinitas and the Ocean Beach Farmers Market.  See website for all upcoming festivals, street fairs and other show locations and events.  Available for group events too!