Integrated Touch Therapy Animal Massage Charts, Books & DVDs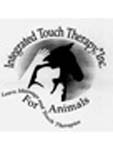 ITT, Inc. has taught canine, equine and feline massage to thousands of students from all over the world, for over 25 years. Our goal is to enhance health and wellness through relaxation. You can purchase our step by step instructional workbooks, companion DVD's, and colorfully designed, laminated anatomy charts through our website.
You can also call us for a free brochure or request one through the website.