L.I.F.E. System Equipment Sales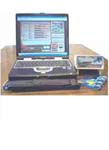 The L.I.F.E. System (Living Information Forms Energy) is the finest state-of-the-art health technology available for the 21st century. The L.I.F.E. System utilizes biofeedback to measure subtle reactive patterns in the body. Later, as a Bio Modulator, it feeds back information to aid and entrain the body to regulate itself.
Our bodies are creations of amazing complexity. Each cell is programmed to send, receive and interpret subtle information as electromagnetic signals. This information exchange is vital ensuring that all necessary life functions do indeed take place.
The L.I.F.E. System uses computerized biofeedback to measure these subtle signals as reactive processes indicating areas of stress, which may result from a large number of factors including:
Allergies
Toxicities & Heavy Metals
Nutritional Deficiencies
Emotional Issues
Mental Patterns
Pathogens
Genetic Predisposition
Prescription Drugs
Injuries & Trauma