Law of Attraction Podcast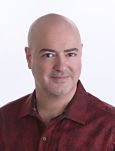 The Law of Attraction podcast is hosted by Life Coach David (www.lifecoachdavid.com). He is a certified and very experienced Law of Attraction life coach. Each episode is filled with wonderful information that will help you attract what you want, and improve your life. You'll also get a deeper understanding about the Law of Attraction and why it's so important to know about.
Life Coach David shares his own stories about the Law of Attraction and also reads from popular books. He then discusses each section in a way that will take the important information easy to understand. He reads and discusses from his own books as well as books written by Esther Hicks and other well known Law of Attraction authors.