Lenox Healing Medical, PC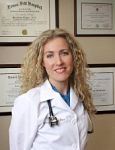 Dr. Kogan has her undergraduate degree in Biology from Cornell University and an M.D. degree from Sackler School of Medicine New York State Program.  She completed her Internship and Residency in Internal Medicine at Lenox Hill Hospital in NYC.  Dr. Kogan is a Master Hypnotherapist certified by the Local 472 Union and is experienced in Ayurvedic Healing, Herbology, and Energy Treatment.
When you are getting an Integrative Physical Exam from Dr. Kogan – you are getting a 360-degree assessment of your Mind-Body needs.  She is very knowledgeable and experienced in both Western and Eastern medical philosophies and fuses the best of both to bring you the ultimate experience in the 21st century preventive physical exam.
Author of the book 'Diet Slave No More!'
Other therapies offered include Ondamed/ PEMF Energy Therapy. For more information on this practitioner or center, please see website.