Natural Solutions – Blog and Newsletter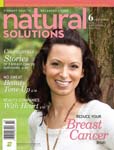 Natural Solutions Magazine is the trusted voice of the complementary and alternative medicine field, providing natural remedies and healthy solutions for your most pressing health concerns as well as practical strategies for self-care and prevention.  Read our Blog for healthy and natural tips and tricks.
Sign up for our Health Tips Newsletter too!  Each week we bring you information, tips, helpful hints, and the latest news on all aspects of healthy, natural living.