Nutra Pure HCG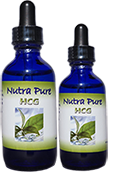 Quality premium HCG diet drops that helps you lose weight up to 1 to 2 lbs a day!
We've helped thousands of customers reach and maintain their ideal weight. The key to their success is simple – the purest homeopathic HCG available, plus unlimited assistance from our customer support team. We strive to bring our customers the same level of satisfaction we experienced when we bought and used the products ourselves.
We pride ourselves in offering the best weight-loss product on the market, and we look forward to helping you reach your goals with Nutra Pure HCG Diet Drops!