One Light Healing Touch Energy Healing & Mystery School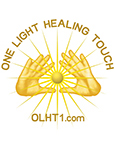 Please see olht1.com for our OLHT Products:  OLHT Journeys are a powerful collection of CDs and MP3s featuring OLHT Meditations, Healing Practices, and Lectures by Ron Lavin. Also see our list of Certified Practitioners and read about inspiring healing stories, testimonials and landmark energy healing studies.
See the Certified Practitioner listings for in-person and long-distant sessions.