One Light Healing Touch School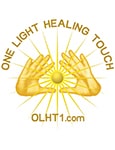 ONE LIGHT HEALING TOUCH School with Penny and Ron Lavin and OLHT Instructors. A comprehensive 14-day training in holistic, esoteric and shamanic energy techniques and practices for healing one's self and others.
Ron Lavin, MA, is a renowned energy-healer and gifted psychic, who has participated in five studies with the NIH. Penny Lavin is a Certified Instructor/Practitioner, filmmaker and author.