San Diego Fertility Acupuncture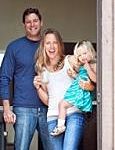 At San Diego Fertility Acupuncture in Encinitas we specialize in women's health and fertility treatments as well as alternative fertility therapies for men. We are committed to consistently offering patients the safest and most effective acupuncture and Chinese Medical treatments & herbal therapy.
Our Women's Health and Fertility Acupuncture clinic supports your goals through Chinese medical treatments and acupuncture which can greatly enhance your chances for pregnancy whether you are trying to get pregnant naturally or undergoing IVF, or other assisted reproductive procedures. We believe in a holistic approach and treat you as a whole person vs. just your symptoms.    To get at the root of your underlying imbalance our reproductive acupuncture specialist will conduct through in-depth consultations and diagnosis assessments resulting in a  specialized treatment tailored to you and your needs which can greatly increase your odds of a successful pregnancy and delivery.
As a patient you will receive the special care that you deserve and a commitment to helping you attain physical and mental well-being in a caring, nurturing and supportive environment.  We also work in cooperation with your other health providers to provide you with the best possible results.