Stress Less, Anxiety, Chronic Pain & Emotional Healing Seminars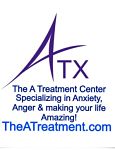 The A Treatment Center offers seminars on reducing anxiety, learning tools to manage anger, deep relaxation and spiritual searching. We incorporate all 5 senses in the healing process allowing body, mind and spirit to come into alignment and find the Truth of who you were meant to be and direct the path of your journey.
Call for a free 15 minute phone consultation for individual sessions or to find out about our group sessions.