Home
The Chakra Shoppe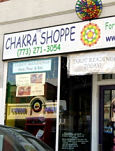 5034 N. Lincoln Ave.
Chicago, Illinois 60625
773-271-3054
The Chakra Shoppe is dedicated to the care of the human spirit. A place to find tools and assistance towards a healthy, happy, successful life. Expert readings, chakra balancing, reiki, past-life regression and more. We offer individual classes and Practitioner Certification. Products for your chakras, books, crystals, jewelry, candles, incense and a warm place to share a good word and cup of tea.
For more info and reviews of The Chakra Shoppe read our Yelp Page.