True Blue Spirit Magazine Archives and Nature Spirit Newsletter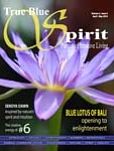 True Blue Spirit Magazine gives you information that expands your mind, revitalizes your body and makes your spirit soar. Read our magazine archives and learn new possibilities of awareness. Join our Newsletter to learn of specials and events. True Blue is a publication of Nature Spirit Earth Market in  British Columbia.
Mother and Daughter, Dorothy and Tiffany opened Nature Spirit Earth Market on beautiful Gabriola Island, British Columbia. Our dream is to provide natural health through body, mind and spirit to Gabriolans and visitors to our fair island.