Truly Alive Magazine – Article Archive Library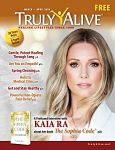 Truly Alive Magazine is New Mexico's premier print and online holistic magazine and resource guide – created for those interested in natural, healthy, and spiritual ways of living. Serving the progressive, alternative health and spiritual communities since 1990. Each issue is filled with articles by leading holistic doctors, natural health practitioners, and spiritual ambassadors for body, mind and spirit.
See our Article Archive Library showcasing articles from past issues.