Veterinary Laser Therapy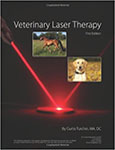 This is a great book written by a noted laser expert with the help of veterinary physicians. It is updated regularly and provides clinical and timely information to help a doctor, therapist, or technician effectively use light and low or high level laser therapy on animals. Designed for almost any type of light therapy product, whether laser or LED, cluster or point probe, and it has clinical protocols for higher and lower power probes.
This new book includes a short overview of physics, physiology, laser acupuncture and the history of laser, but is primarily focused on the clinical aspects of laser treatment. It is a valuable addition to the library of any clinician wanting to know how to effectively and safely use light and laser therapy with animals.