Health and Wellness Classes & Workshops: Alabama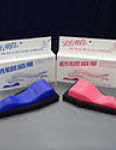 Learn about Sacro Wedgy® and how it has helped back pain, hip pain, scoliosis, knee pain, sciatica and more. This simple yet effective device was created by a retired football coach from Louisiana. He created the Sacro Wedgy to stabilize the sacrum and we now have a class to teach gentle non-invasive ways to help bring our structure back to center to help correct symptoms – not just treat.

As a National Level Trainer Patricia's horsemanship gravitated to physics and concepts of energy. Natural training strategies transform weaknesses into strength. This changes behaviors, flexibility, hoof growth, and recovery from injuries. Workshops designed to raise our level of knowledge about developing a partnership with the horse. Be prepared to spiritually plug into your horse.