Academy of Chinese Culture and Health Sciences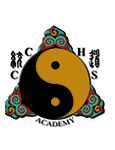 Traditional Chinese Medicine is more than just needles and formulas. TCM is the art of acupuncture, acupressure, herbal prescription, Taiji Quan, and meditation, based on the foundation theories of yin and yang, the five elements and eight principles. ACCHS explores the methodologies of proper healing while preserving the cultural and spiritual aspects of the inner self. At ACCHS, we produce students equipped to cultivate their own health, well-being, and inner harmony while healing others.
ACCHS is the third-oldest TCM school in the United States and it remains one of the few colleges teaching classical Chinese medicine as it is practiced in China, including acupuncture, Tui Na and acupressure, moxibustion, herbal prescription, Taiji (tai-chi), and meditation. ACCHS offers a Master of Science in Traditional Chinese Medicine, a Doctorate of Acupuncture and Oriental Medicine, and a robust Tui Na Massage Therapy Certificate program.
Drop by anytime or during open house dates throughout the year, or call to make an appointment for a tour and a chance to experience first-hand.