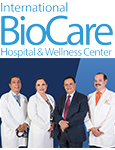 BioCare Hospital & Wellness Center is located in Tijuana, Mexico.  We have over 4 decades of experience offering state-of-the-art therapies and focusing on natural treatments for many diseases.
At BioCare we apply an integrative approach to treating cancer, where special attention is given to each patient's individual condition; there is not a one-size-fits-all approach.  We start with a full initial diagnostic assessment, recording the body's resources and strengths, and this is where we start planning each patient's treatment.
Learn about BioCare protocols and tools.