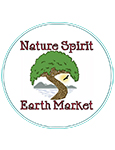 Offering advice on healthy nutritional and herbal options.  Check with store for lectures on nutritional and herbal topics.
Our apothecary offers and great selection of herbs and spices. Great selection of natural foods, beverages, supplements, body care items. Conscious Living items including incense, aromatherapy, crystals, jewelry, candles, books, salt lamps, singing bowls, flower essences, and much more!
Mother and Daughter, Dorothy and Tiffany opened Nature Spirit Earth Market on June 20th, 2015 - on beautiful Gabriola Island, BC
Our dream is to provide natural health through body, mind and spirit to Gabriolans and visitors to our fair island.