Creative Life Sciences bookstore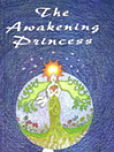 Being Here When I Need Me
Being Here When I Need Me is a journey into the heartland of yourself, where you will meet your inner healer, creative genie and beloved Self, who is always here to love, understand and support you. With its unique combination of mysticism and science, this book will help bring you home to the Self.
"Being Here When I Need Me provides a natural way to open to your higher Self. It is down-to-earth, comprehensive, clarifying, and powerful. Vivian King's approach to Psychosynthesis is both inspirational and scholarly. I highly recommend this book to those committed to personal and spiritual growth and to all humanity."
The Awakening Princess
Exploring life after death and the inner dimensions of the psyche, this book encourages us to deepen our relationship with nature and our beloved planet whose destiny we share.
An inspiring story about planetary awakening spanning over 3000 years Time-travel, angels, fairies, ETs, spiritual masters and the mysteries of ancient Egypt combine in this inter-dimensional journey through time. Described by its readers as enchanting, magical, and full of love, joy and humor, The Awakening Princess celebrates both the visible and invisible world we inhabit.
Inspirations From The Universe
Within the well-acclaimed inspirational poetry in Inspirations From The Universe (Outskirts Press, 2013), poet and spiritual traveler Nick Olsen offers a journey of poetic meditations to be reflected on so readers may embrace active steps toward a greater appreciation of their own spirituality.
Olsen has crafted a series of meditative reflections from his own spiritual journey, which he bequeaths to his readers as poetic stepping-stones, and meditative touchstones, by which readers can both measure and hasten the progress of their own spiritual journeys. A journaling-style page accompanies each of his thought provoking poems, on which readers can immediately jot down their own responses and personal realizations from Nick's inspirational messages.
If I'm Crazy, I Am In Good Company: Using Our Intuitive Awareness
If I'm Crazy, I Am In Good Company: Using Our Intuitive Awareness is about ordinary people who use the intuitive gifts we are given at birth, in extraordinary ways. Within each of us is the ability to connect with our soul conscious, the part of us that contains a filing cabinet of information that can answer what makes us unique, where we have been and where we are going.