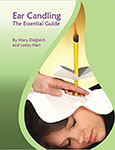 'Ear Candling the Essential Guide' provides therapists, students and the public with an interesting and accessible introduction to ear candling. This book which was previously published as 'Ear Candling in Essence' has now been completely revised and updated. Ear candling has been used for millennia and this fascinating book covers the history of ear candling from its use by the ancient Egyptians, Greeks, Romans and other world cultures. It provides advice on important ear candle safety features and explains how ear candles work.
It also includes comprehensive information on the anatomy, physiology and pathology of the ears, nose, throat and sinuses as well as the benefits of ear candling and contraindications to treatment. It goes on to concentrate on practical application with step by step instructions on treatment and massage techniques. Information on ear candling courses and advice for therapists is provided, along with a list of relevant websites, further reading and a very useful glossary of terms. Written in an accessible style with colour photos and illustrations, numerous frequently asked questions and case studies, this book is the perfect introduction for therapy students, professional therapists topping up their skills or anyone wanting to learn more about the history and practice of ear candling.
The authors are practicing complementary therapists and experienced tutors and teach a range of complementary therapy courses in the UK and abroad.