Heal Yourself with Breath, Light, Sound and Water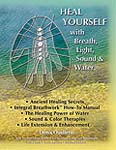 How to use Nature's purest elements to revitalize your life! Includes Ancient Healing Secrets, Integral Breathwork How-to Manual, Sound & Light Therapies, Earth & Water Energies, Life Extension and Enhancement. This book balances the practical aspects of breathing with the esoteric aspects. Learn self-healing through the powers of nature.
Also available as Ebook (PDF).