Home
Holistic Naturopathic Center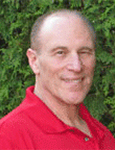 Dr. Glenn B. Gero, N.D., D.Sc., M.Sc., R.H. (AHG), M.E.S., C.L.C.
256 Colfax Ave
Clifton, New Jersey 07013
United States
973-471-5758
Biofeedback, Blood Chemistry Analysis, Chelation Therapy, EFT/TFT, Guided Imagery, Hair Analysis, Herbology, Integrative Medicine, Life Coaching, Naturopathy, Neuro-Linguistic Programming, Nutrition, Physical/Exercise Therapy, Thermography, Wellness Centers
Dr. Glenn Gero is a NJ naturopath who has appeared on numerous television and radio programs, including NBC, PIX, Fox, NJTV, among others, and analyzes each individual's health, behavioral and attitudinal profile to help achieve optimal wellness by referring each client to scientific, historical and anecdotal healing principles.
Dr. Gero also offers:
Cognitive Behavioral Therapy (CBT)
Medical Exercise
Body Composition Analysis
Free Radical Testing
Food Sensitivity Testing
For more information on this practitioner or center, please see website.