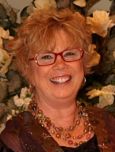 Fiquet Hanna Duckworth is a Doctor of Oriental Medicine (DOM). We are a family practice specializing in Integrative Wellness Care, a whole-person approach to help you reach optimum health and vitality.
At the Integrative Japanese Acupuncture and Wellness Center in Santa Fe New Mexico, Dr. Duckworth integrates Eastern and Western medical modalities to bring the patient to maximum healing and balance. Both energetic and chemical pathways are investigated to achieve this.
Dr. Duckworth has practiced Japanese Acupuncture Kototama Tradition since 1985. Using small disposable needles on the energy pathways called meridians, the body's "Qi", or energy, can be balanced alleviating medical problems.
Integrative Functional Medicine, a new paradigm in Western Medicine, uses a biological systems approach for medical diagnosis. The chemical pathways and organ systems are evaluated as to their functionality separately and as a whole. This approach shifts from the disease model of allopathic medicine to a whole person perspective.
With each decade come new challenges for our wellness. The clinic's mission is to give the patient a wellness strategy not only for their present condition but tools to maintain their health. Dr. Duckworth tries to include as many variables as possible to design an individualized plan.