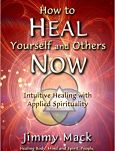 Jimmy Mack is a renowned Medical Intuitive, Spiritual Life Coach, and Creator of the My Liquid Fish® and Change Made Simple® techniques.  He will help you create transformational Healing of Body, Mind and Spirit, People, Places, Pets and Situations!
Titles include Take Action now, How to heal Yourself and Others Now, Tell the Fish - 365 Daily Inspiration and Affirmations, The Tackle Box - Change Made Simple, Advanced Deep Sea Fishing - a series of continual downloads from the spirit world and the MyBeliefworks audio series.
Jimmy Mack is also available for personal healing sessions and offers online courses.
Visit Jimmy's YouTube channel here: https://www.youtube.com/channel/UC7c0vqLDlv9PyP7hV7xpuqg
You can also follow Jimmy on Facebook and Twitter:
www.facebook.com/JimmyMackHealing
twitter.com/myliquidfish