Journal of Holistic Nursing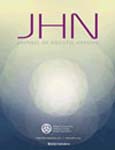 The Journal of Holistic Nursing has the latest evidence-based research findings and best practice applications globally for holistic nursing.  JHN is the American Holistic Nurses Association's peer-reviewed professional journal that publishes contributions to the development of holism, holistic health and nursing knowledge with an emphasis on research, practice, education and aesthetics.
The JHN is published quarterly. In each issue, readers can also participate in a self-study program to receive continuing nursing education from AHNA.
The American Holistic Nurses Association invites researchers and healthcare professionals to electronically submit manuscripts for consideration.