National Association for Holistic Aromatherapy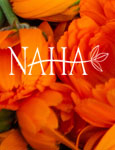 NAHA Teleclasses and Webinars feature a variety of topics in the field of aromatherapy. Join our one hour presentations by approved educators and schools to expand your aromatherapy knowledge. Classes & recordings are free for NAHA members. Memberships start at just $50.
Recordings also available for purchase.
View our YouTube channel: https://www.youtube.com/channel/UCgLFMr_TEWy_cV02Tyto5sA?view_as=subscriber