National Association for Holistic Aromatherapy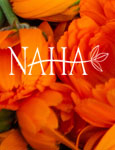 NAHA Teleclasses and Webinars feature a variety of topics in the field of aromatherapy. Join our one hour presentations by approved educators and schools to expand your aromatherapy knowledge. Classes are free for NAHA members. See our Education tab for selection of classes.
Recordings also available for purchase.
View our YouTube channel: https://www.youtube.com/channel/UCgLFMr_TEWy_cV02Tyto5sA?view_as=subscriber