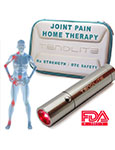 THE SECRET TO YOUR PAIN FREE LIVING
Get back to your Prime in No Time!
Join the thousands of clients in over 65 countries, who enjoy the incredible benefits of TENDLITE® Red Light Therapy!
BENEFITS:
- New Medical Grade Power in Red Light Therapy - For Home Use, Self-administered and without a prescription
- Painless, Easy & Safe Treatments
- Fast Sessions: Just shine the Light directly at the Joint or Disc
- Treats Symptoms & Cause
- Safe for You and Your Pet
TRIPLE ACTION:
1. ANALGESIC Action: Systematic Analgesic Delivery
- Reduces Pain Consistently
- Promotes Muscle Relaxation
2. ANTI-INFLAMMATORY Action: Lowers the Inflammation Progressively
- Increases Lymphatic Activity & Blood Circulation
- Reduces Swelling & Stiffness
3. REPAIR & REGENERATION Action: on Tendons, Cartilages, Ligaments and Discs
- Photo Activates Collagen Production necessary to rebuild the Connective Tissue that repairs the Joint or Disc.
TRY US RISK FREE - 100% GUARANTEED!
- Not Completely Satisfied? Get a Full Refund!
- Free Shipping within the US - Ships Worldwide (by Tendlite's Fulfillment)
- FDA Cleared K-100213
- 1-Year FULL Warranty
- MADE IN USA