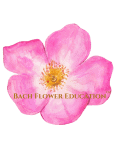 Our self-paced Level 1 course will get you started using Dr Bach's 38 remedies and helping others right away.
Advanced Studies-Level 2 and Bach Flower Practitioner Training.
Level 3 leads to becoming a Bach Flower Certified Practitioner (BFCP™) with the skills and knowledge needed to effectively run a practice.
Courses are interactive, live online to help you build confidence as you practice your skills. Teaching online since 2009.
Level 1 Distance Learning via Web & Homestudy
The course is composed of 9 Sections of self-paced online study which may be accessed at any time. Course contains video, exercises, reading from the course books, and other assignments. Optional live web classes give students opportunities to interact and ask questions. The course comes with 3 books. Students receive a special discount in our remedy store.
Bach Flower Institute Advanced Studies - Level 2
Level 2 is an advanced class, providing the tools and depth you need to effectively help others with the 38 Bach flower remedies. The program is taught by master teachers who are not only practitioners, but who have advanced teacher training and experience. Our live interactive format provides students direct access to their deep wisdom, knowledge and experience.
Bach Flower Institute Practitioner Training - Level 3
This live interactive online course, followed by six months of supervised home study, leads to becoming a Bach Flower Certified Practitioner (BFCP™) It is taught by our most experienced teachers, who provide decades of practice and teaching wisdom. Successful completion allows you to become a member of the Bach Flower Practitioner Alliance, which offers practitioner support, networking and materials.
Bach Flower Education is an approved CE provider (NCBTMB, NCCAOM, ANMCB)