Conscious Shift Magazine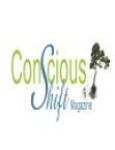 Conscious Shift Magazine is an online Community where new ideas are taking root for a changing world.
We are an online magazine, video network, and book publishing Community that is focused on the changes that are happening in our world today.  We take on ideas that are outside the mainstream and present them in an intelligent, and understandable manner. We take the should out of everyday life and give you information that is balanced and leaves you feeling like you could do anything you set your mind to.