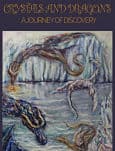 Crystals and Dragons:  A Journey of Discovery is an informative book for everyone who desires to experience holistic ways of healing.
Information on stones and their uses, layouts, dealing with emotions and basics of crystal healing are addressed.
Something for everyone!
About the author:
Linda has traveled all over the country doing lectures, classes and healing sessions. She has met the most incredible people and has remained friends with many of them over the years. And one thing has never changed-her love of the crystals. She looks forward to many more years spent in the energy of these crystalline beings!