Dragon Rises College of Oriental Medicine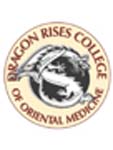 Dragon Rises College teaches Contemporary Oriental Medicine, a comprehensive model incorporating Traditional Chinese Medicine, 5 Element Theory, and diverse traditions of Oriental medicine with in-depth training in Chinese diagnosis especially pulse. We teach an integrated model graduating successful students with a sound foundation of diagnostic and treatment principles.
Unique among acupuncture schools, Dragon Rises College offers its students a complete and far-reaching education, enabling them to become competent, confident and successful acupuncturists.
The curriculum is demanding and comprehensive, crafted from the knowledge and wisdom of some of Oriental Medicine's most eminent scholars. For students wishing to learn acupuncture in a dynamic and inspirational way, DRCOM is an excellent choice.
Experienced practitioners from around the World regularly travel to study at Dragon Rises College, as some of the skills taught at the school are offered nowhere else.