HealthyLife.net Radio Network – Real Radio On The Web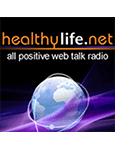 Since 2002 HealthyLife.net Radio offers a wide selection of positive programs and online platforms for local, national and global listeners including Live, On-demand, Podcast Download and 24/7 availability via syndicated/simulcast distribution.
To help you towards a happy, healthy life we have LIVE call-in programs with over 40 experienced radio, film, TV and national expert hosts. We span the topics you want to hear...News; Lifestyle; Natural Health; Business & Community; Variety & The Arts; Inspiration & Motivation; Specialty Series; Spirituality & the Paranormal.
For advertising or hosting a show call 800-555-5453