NAHA- National Association for Holistic Aromatherapy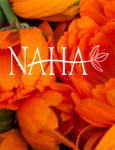 Stay current and expand your knowledge! NAHA's Aromatherapy E-Journal is filled with articles written by respected experts in the field. Issues include diverse topics to broaden your perspective. Valuable resources augment your knowledge of aromatherapy. Regular features include safety information, essential oil profiles, and reviews.
Free to members. Memberships start at just $50 a year.
Check out our store to order past issues.
View our YouTube channel: https://www.youtube.com/channel/UCgLFMr_TEWy_cV02Tyto5sA?view_as=subscriber