Radha Beauty Lavender Essential Oil – 100% Pure & Natural Therapeutic Grade!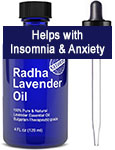 The health benefits of lavender essential oil include its ability to eliminate anxiety, insomnia,  relieve pain, disinfect the scalp and skin, enhance blood circulation and treat respiratory problems. The Latin name of lavender is Lavare, which means "to wash", due to its aroma which has a particularly clean aroma.
– 100% Pure Bulgarian Lavender Oil – No Fillers. 4 OUNCE BOTTLE!
– HIGH QUALITY DROPPER – For your convenience when dispensing.
– AROMATHERAPY & HEALING PROPERTIES – Great for aromatherapy and relaxation. Improves mood.
– VERSATILE ESSENTIAL OIL – Can also be used for massage oils, bath salts and body wash.
– RISK-FREE MONEY BACK GUARANTEE – If you are not completely satisfied, simply contact us and we will give you a full refund, no questions asked!